Dare report (Walk and car wash)
---
I've been asked to write a report of a dare I was given, it has been a while since I have written one, so hopefully it will be okay.
I was told for the day I had to wear my pink bra and pantie set with breast pads inserted. Over these I was to wear a tight white t-shirt and jeans.
Part 1 of the dare was to go for a minimum 5 mile walk at a fairly popular country park dressed like this. (as it is the end of October and a little chilly, I was allowed to wear a light coat while walking, but had to have it unzipped and completely open for the walk)
I was not allowed to go off the main walking routes or to attempt to cover up if walking near people, foiling a few of my plans to reduce the risk... Now I'm not an expert on bra sizes, but I do know it is on the larger side... (44/100 if that means anything lol) and with the breast pads inserted, gave me quite a "bosom"...it felt so obvious to me, that I was sure anyone who got close by may well notice, I couldn't help but wonder what people would be thinking if they did pick up on this unusual sight.. One other thing I had not thought about properly, was that I had a bag with drink/snacks in, this bag had a strap that went over my shoulder then diagonally down my front, this had the effect of making the lumps were the breast pads were seem more pronounced as it went in between them... As it was also school holidays today, the park was really quite busy with a lot of people walking or playing with their kids/dogs. Several said "Morning" to me as we passed, making me more nervous not wanting people to take any notice of me haha At several points around the walk I was instructed that I had to "fondle" my "boobs"
Really hoping nobody noticed that! I was at the park for just under 2 hours before I had to move on to part 2 of the dare. (I was meant to take some pictures, but I did forget, so hopefully I don't have to redo that part!)
Part 2 of the dare started with me having to take the coat off and drive a few miles to a hand car wash, the driving part wasn't too bad, chances of being noticed would be very low I think (even if the seat belt going between breast pads made them stand out more. But then I had to sit in my car while it was hand washed, including them opening all the doors to wash the sills. I felt extremely self conscious during this, as I fail to see how they could fail to notice my "bosom", especially when opening the driver door looking down on me as they wiped the door sills
It's not like I am a big guy in the upper body, so it would seem most unusual to them... (I'm not sure I would have agreed to the car wash part of the dare if I had thought about it more and realised how obvious it would be lol) I might have enjoyed it more had they been women doing the car wash, but apart from the one who took payment, they were all guys. (I prefer to be embarrassed in front of ladies than guys haha) I can only imagine what they must have thought or if they had a laugh about it after I left... I may have to find a new car wash in the future, not sure I want to go back lol
I'm not sure pictures really show how big my "bosom" was, but here are a couple taken in my car... -: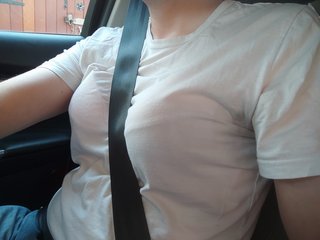 Comments