Shopping trip dares.
Posted 07-28-2020 at 03:01 PM by
Matt:
---
A report on some shopping trip dares I was required to do.
I was told to go to a retail park with a few different shops taking a few items with me...
I started with the easiest dare. To go around a pet store wearing my boy toy collar. This was not a big deal, I wore a huddie so collar was only visible from the front and the chances of someone seeing it were small.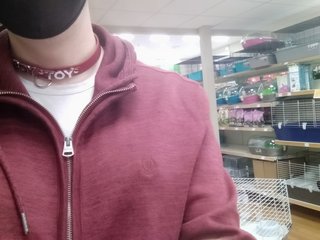 The 2nd dare was more challenging.. To were my ball gag in a home store... This is were new covid laws helped me. As face covering/masks now have to be worn inside shops. So I was able to put the ball gag on inside my car before going into the store, as my mask would cover it. As otherwise I would have had to find a place to put it on inside the store. There was the big leather strap around the back of my head though, I am not sure what people would think that was for if they did see... I hoped my hoodie would hide some of it. The one thing I had not considered though, was the shop staff on the door, who was there to check people were wearing mask, following social distancing, not too many people in store at one time and asking how you were... Now talking with a ball gag in, is a little difficult.... So I had to just mumble something through the gag and hope she would not notice anything was strange! Now clearly, I was not going to be allowed just to walk around the store with mask covering my gag all the time (unfortunately lol) I had instructions to remove mask for a minimum 1 minute while walking around shop. I tried to find a quiet area with not many people. But still, I knew that anyone could walk around a corner at any time and see me! So was very nervous. Here is a picture,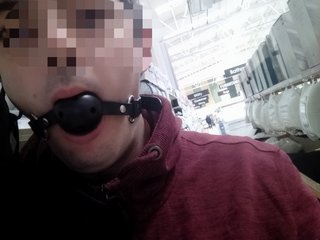 I hope nobody saw me!
The 3rd dare was to wear a bra over the top of my t-shirt in a clothes store (still wearing collar as well) I was allowed to keep my top zipped up to cover bra most of the time, but would have to have it unzipped for at least 2 minutes inside. Now this is were new covid changes did not help me. I had thought I would just go in a fitting/changing room or toilet for 2 minutes, but due to covid, these were all closed, there went my plan lol (I am sure I would have got in trouble if I had done that though...) This was the hardest dare so far, the clothes store was really busy, was hard to find any quiet areas! Every time I'd go to unzip my top, I'd see somebody coming near to me. In the end I just had to go for it and unzip my top. People were still not far away though, and I had to keep changing direction, going up different aisles trying to keep my front out of site. 2 minutes felt like a very long time! I am sure I must have been seen by some, and then there would be CCTV all over the store, so if anybody was watching that, that would have had a surprise...Trying to get pics was not easy either! But here is one,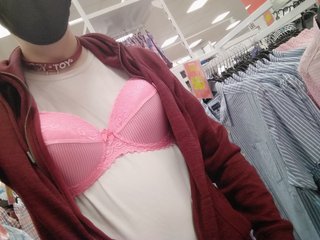 My 4th dare was to repeat this, but in a supermarket! But as there was a long queue to get in, this was postponed until Monday.
My 5th dare was to drive home with top undone showing bra and collar. I felt very exposed doing this! I was sure everyone in every passing car would see my big pink bra! Thankfully it was only a short drive. Another pic....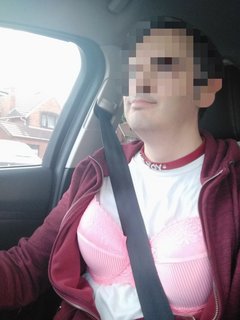 As I wasn't able to do the supermarket dare on the Sunday, I had to do it on Monday while driving for work. Quite similar to the clothes store, it was not easy to find any part where I would not be seen and again just had to take my chances and remind myself that even if people did see me, nothing bad was going to happen other than my embarrassment! And again I hope they have no reason to watch the footage from the security camera's that cover every square inch of the store...Guess it would give them a good story to share...Just hope never uploaded to youtube!!!!
Also trying to take the pictures for these dares was difficult especially trying not to draw attention to myself lol In order to show myself and some background to show where I was, have to hold the phone at full arms length!
I will add more pictures in comments, as reached the max for blog.
Comments