A random assortment of reports, thoughts, ramblings and information. Pretty much a view inside my wonderfully complicated, sometimes broken, and entertaining mind.
Pooh is my spirit animal
---
I have been watching
Christopher Robin
today. If you haven't watched it, you absolutely MUST! It really is great. As I was sitting here giggling through the movie, I realized that I can really relate to Winnie the Pooh. In fact, I think he is my spirit animal.
Here are some of the similarities:
Hungry
Pooh is always hungry, and has a rumbly in his tumbly. He also has a sweet tooth, which is why he chooses honey. I am the same! I love chocolate and sweets. Although not a fan of honey.
Messy
Winnie the Pooh is always sticky and making a mess. One of my favorite parts of the movie is when Pooh is walking through Christopher Robins house, leaving a trail of honey behind him and he says "your floors are really sticky". It makes me giggle every time!
I am very messy too! I spill food on me, get my hands sticky, leave a trail of mess behind me. Mr. Devious has threatened to buy me a bib many times (although he never has!).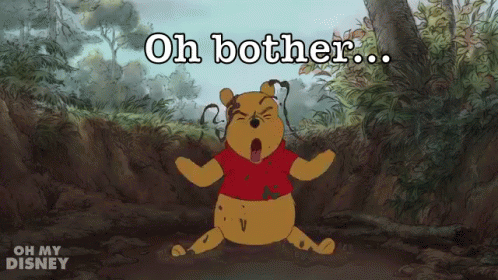 Clumsy
Winnie the Pooh is always getting stuck, hurt or getting himself in funny predicaments. I too am always finding myself in some sort of trouble. Whether it is getting glitter stuck in my eyeball, or tripping over a pillow and breaking my toes, my life can be rather ... exciting :P
Round and Cute
Pooh is round and adorable. He says the cutest things, and how can you not fall in love with his round little tummy. I don't know if I am quiet as adorable, but I do think I can be rather cute when I try.
Brave and Loyal
Winnie the Pooh is very brave and very loyal to his friends. Even when he is scared of heffalumps and woozles, he will do whatever he needs to do to help his friends. I am the same way. I will go out of my way to do what I can for my friends.
Humble
Even though Pooh bear has a lot of amazing qualities, he is very humble and kind. He isn't conceited or full of himself. This is probably more because of my damaged self esteem, but I feel as though I am really humble. I do not think I am better than others. I am just me.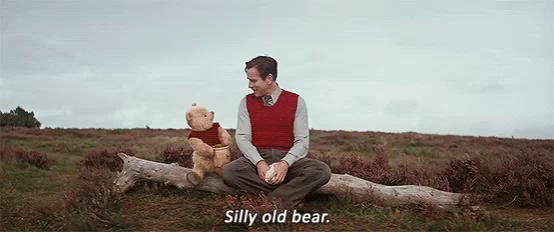 Silly
Pooh is a silly old bear. I like the sillyness!!!
Wise
Winnie the pooh is very wise. There is even a book about Poohisms published all about the wise things that Pooh says.
Just a few quotes from pooh to prove my point:
Quote:
Originally Posted by Pooh
People say nothing is impossible. But I do nothing every day
Quote:
Originally Posted by Pooh
Sometimes when I'm going somewhere and I wait, somewhere comes to me
Quote:
Originally Posted by Pooh
A day without a friend is like a pot without a single drop of honey left inside
Quote:
Originally Posted by Pooh
It is more fun to talk with someone who doesn't use long, difficult words but rather short, easy words like, "What about lunch?
Quote:
Originally Posted by Pooh
You can't always sit in your corner of the forest and wait for people to come to you… you have to go to them sometimes
Quote:
Originally Posted by Pooh
If the person you are talking to doesn't appear to be listening, be patient. It may simply be that he has a small piece of fluff in his ear.
Quote:
Sometimes, the smallest things take up the most room in your heart.
Now, I don't feel like I am nearly as wise as Pooh, but I am the person that a lot of people count on to come and get advice from. I am an adviser, a teacher, a role model. I have tried denying that I am put into those roles, but it simply is true. I do my best to impart my wisdom and experience on others when they ask.
So yes,
Pooh is my spirit animal
Comments